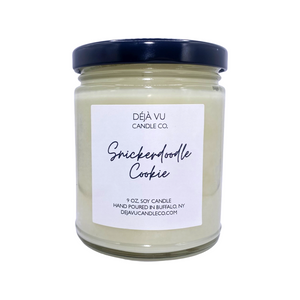 This Snickerdoodle Cookie Soy Candle is bound to make your home smell like you just pulled a tray of gooey snickerdoodles out of the oven! The delightful smell begins with sweet notes of sugar and honey, followed by creamy butter and warm vanilla, and finished with a touch of cinnamon. Enjoy the inviting scent of fresh baked cookies without the calories!
Note Profile:
Top: Cinnamon, Sugar
Middle: Honey, Butter
Base: Vanilla, Cream
9 oz Candle: made with 100% soy wax with an approximate burn time of 50 hours. Wick is 100% cotton, lead free.
All products handmade in Buffalo, NY