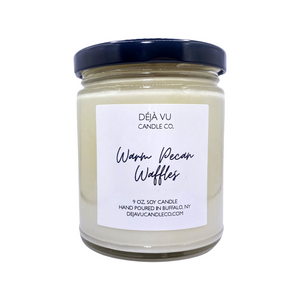 This soy candle will make your home smell like freshly baked, warm pecan waffles coated in syrup. It is a bestseller, so we made it available year-round. It contains notes of butter, maple syrup, cinnamon, and pecan, making it a fan favorite. Light this candle and enjoy a comforting, delicious scent.
Note Profile:
Top: Butter
Middle: Cinnamon, Cherry, Apple
Base: Vanilla, Musk, Maple Syrup
9 oz Candle: made with 100% soy wax with an approximate burn time of 50 hours. Wick is 100% cotton, lead free.
All products handmade in Buffalo, NY
My New Favorite
I absolutely love this candle! It smells sooo yummy! I actually burn it with my Brown Sugar Candle the mixture of them both together smells like heaven! Must Buy!